sales@andksocket.com
+8618824309157
GLUS, Liaokeng Road 05-1, Shiyan Street, Baoan District, Shenzhen, China
HOTLINE:+8618824309157
HongYi talks about the characteristics of BGA socket
BGA chip aging seat is a kind of package aging seat of integrated circuit using organic carrier board. BGA aging seat has various package forms, forming a family, which not only differ in size and I/O quantity, but also its physical structure. And packaging materials are also different. HongYi takes you to the BGA socket.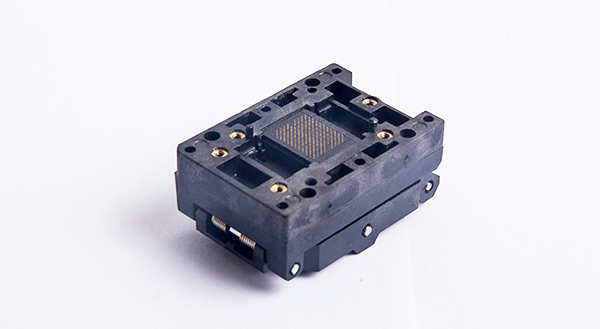 The utility model has the advantages of manual clamshell structure and automatic push-down structure, and is convenient to operate;
The IC pressure plate of the upper cover of the flip cover adopts a spring-pressure structure, which can automatically adjust the down pressure to ensure uniform pressure of the IC;
The special head protrusion of the probe can pierce the oxide layer of the solder ball, and the contact is reliable without damaging the solder ball;
High-precision positioning groove or guide hole ensures accurate IC positioning and high production efficiency;
Adopt floating plate structure, can test ball, ball and residual ball for BGAIC
Probe material: beryllium copper (standard),
The probe can be replaced, the maintenance is convenient, and the cost is low.
Rated current: 3A/PIN insulation resistance: 1000MΩ (500VDC)
Insulator voltage resistance: 700VAC / 1 minute
Contact resistance: 50mΩMax
Inductance coefficient: 1.5nH (about) at 50MHz.
Operating temperature: -55 ° C to 175 ° C
Gold plating thickness: 30–50μ" Hardgold
The frequency can reach 10.9G.
Probe life: 30-500,000 times
Insulation material: FR4, Torlon, PEI
The minimum achievable center hop pitch=0.25mm;
Fast delivery: delivery within seven days.
Hongyi Electronics Co., Ltd. is a technology-intensive high-tech enterprise integrating scientific research, production and sales. It specializes in the research, development and production of Burn-in Socket, Test Socket and various IC test fixtures for various ICs. Professional integrated circuit testing, burning, aging test and other connection solutions; professional development, development, production of various high-performance, low-cost Burn-in & Test Socket and various IC test fixtures, suitable for a variety of packages :BGA, PGA, QFN, GCSP, CLCC, QFP, TSOP.
Email:sales@andksocket.com
Skype:windy@hydz999.com